During your first visit, and depending on the reason you are in to see Dr. Stoll, We make sure to obtain important background information, like the history of your problem, you current medical history and who your regular doctor is.

Medical assistants may then take your blood pressure and pulse of your arms and feet using a doppler machine. If you have Diabetes, or are over the age of 65 your foot circulation is vitally important to us.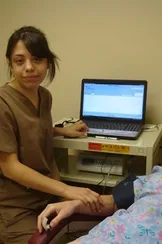 You may also need X-rays. If a specific spot hurts tell the Assistant, so she can put an X-ray marker on it so we can better focus on that area.



Mission Statement
Our practice is working together to realize a shared vision of uncompromising excellence in podiatric care.

To fulfill this mission, we are committed to:
Listening to those we are privileged to serve.
Earn the trust and respect of patients, profession and community.
Exceed your expectations.
Ensure a creative, challenging and compassionate professional environment.
Strive for continuous improvement at all levels.
Patient Forms
Please print and fill out these forms so we can expedite your first visit:
In order to view or print these forms you will need Adobe Acrobat Reader installed. Click here to download it.



What to expect
Being well-prepared for your appointment will ensure that the doctor has all of the needed information to provide the best possible care for you. It also will help relieve any unnecessary anxiety you may be feeling. Educate yourself on your symptoms by reviewing the content on this Web site. Also, take some time to review our staff page and familiarize yourself with the doctor. We look forward to your first visit.

Driving Directions
If you are coming from central buckhead, the best road to take is Paces Ferry Road moving towards interstate 75. Make a left onto northside parkway, then a right onto Howell Mill Road.
Local Landmarks: Steak and Shake, OK Cafe, Exit 255 from interstate 75
Public Transportation Stop: MARTA Bus or MARTA Para transit at 404-848-5826